airforce.gr Version 3 beta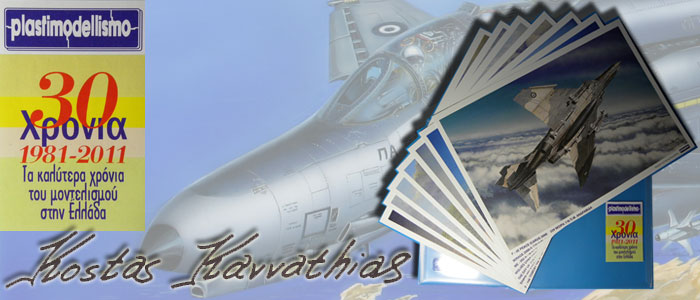 Plastimodellismo this year celebrates its 30 years since 1981 and for that reason has published a set of nine (9) prints under signature of known aviation artist Kostas Kavvathias. Each lithograph printed on a high quality paper has a 32x23 cm size and all nine of them come in a beautiful collectable clear folder for €19.50. To see photos of all themes please click here.
For more information you can contact with Plastimodellismo (click here: www.plastimodellismo.gr).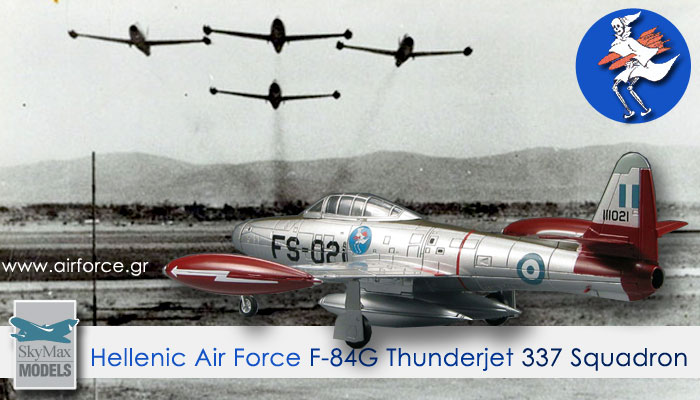 Skymax models surprised us in a very positive way when announced the production of a rather rare and historical model presenting a Hellenic Air Force F-84G Thunderjet as used to fly with 337 Squadron "Fantasma" (Ghost). In October 1952 the 337 FB Sqn deployed from the Elefsis Air Base to the Larissa AB with F-84G aircraft in its inventory. What makes this model and especially 337 Squadron historical is the fact that at the beginning of the year 1953, the first acrobatic flight of the HAF was established and joined the 337 Fighter Bomber Squadron , a fact that projected the squadron in the inland as well as abroad. The establishment-training of the Acro Team had been accomplished.