When you search for specific information concernig Hellenic Air Force then the books should be your guide. Bibliography related to Hellenic Air Force counts a lot of books and magazines and a group of them is presented right here.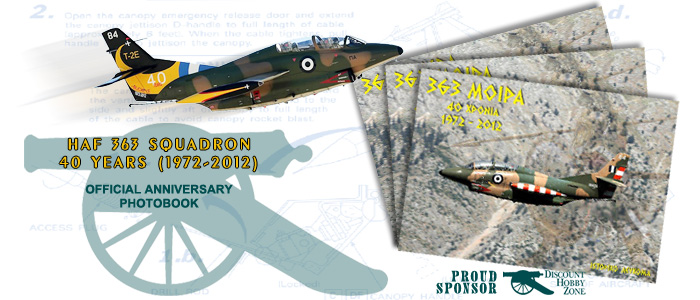 Click on the image above to purchase the Hellenic Air Force 363 Squadron photo-book.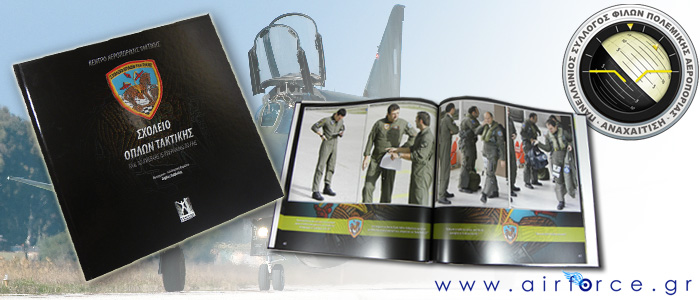 We have the honor to be the first to review the new photo book dedicated to the Hellenic Air Force (HAF) Fighter Weapons School as published under the auspices of Panhellenic Association of Hellenic Air Force's Friends Anachaitisi (eng: Interception)...
The photographs, authorship and general artistic provision are by Mr. Savvas Savvaides and as the general title gives away it is dedicated to the HAF Fighter Weapons School under Air Tactics Center based in Andravida A.B. The HAF Fighter Weapons School is the equivalent school of USAF Top Gun as most probably already know. That means that inside the 62 pages of this hardcovered book (ISBN: 978-960-446-198-1, size: 30x30cm) you shall find plenty of photos depicturing aircrafts coming by all the active HAF fighter Squadrons.
Mr. Savvas Savvaides has selected 53 photographs out of 1,000 in total taken during two different visits of the Panhellenic Association of Hellenic Air Force's Friends Anachaitisi to the Air Tactics Center on November 2010 and November 2011 accordingly. The general goal is to introduce the HAF enthousiast, either experienced or not, into the every day life of HAF Fighter Weapons School. More than half of the photos, about the 2/3 of them, visualize the aircrafts and the emblem of the Squadron in service together with text in greek language providing information on the Squadron's role, weapons and history.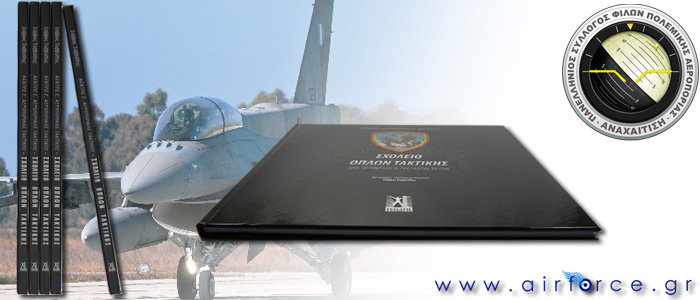 At the next pages of this fine photo book you will discover photographs of the trainers and trainees. Intensive scenes showing what comes before taking off and after landing during the exacting exercises under the program of HAF Fighter Weapons School. At last but not least you will find some great double sheet large size photographs of all kind of aircraft types.
Please browse some sample pages of the Photo Book below as provided by the author:
This is a limited edition publication. If you wish to purchase one of these Photo Books, exactly like we did actually here at airforce.gr in order to prepare the current article, please feel free to visit the official web-site Panhellenic Association of Hellenic Air Force's Friends Anachaitisi: www.anaxaitisi.gr or send an e-mail message directly to the following e-mail address: This e-mail address is being protected from spambots. You need JavaScript enabled to view it asking about price and other order details ...
OR
... click on the image below to take advantage of the contest organized by Airforce.gr and www.anaxaitisi.gr . Please fill in your information and get in the drawing to win a "Fighter Weapons School" Photo Book.  You can only send your information just ONCE so please be sure that you have inserted the correct personal information.  Waiting for you to fill your information in the form below until Sunday 17th of February 2013.