When you search for specific information concernig Hellenic Air Force then the books should be your guide. Bibliography related to Hellenic Air Force counts a lot of books and magazines and a group of them is presented right here.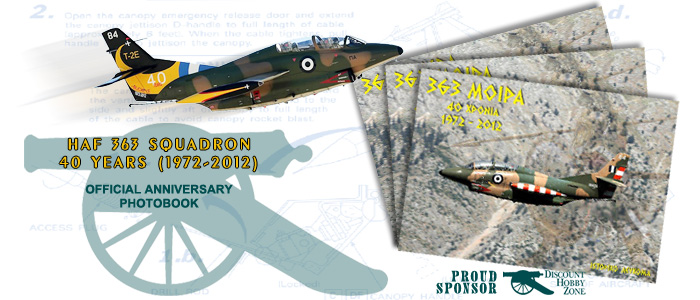 Click on the image above to purchase the Hellenic Air Force 363 Squadron photo-book.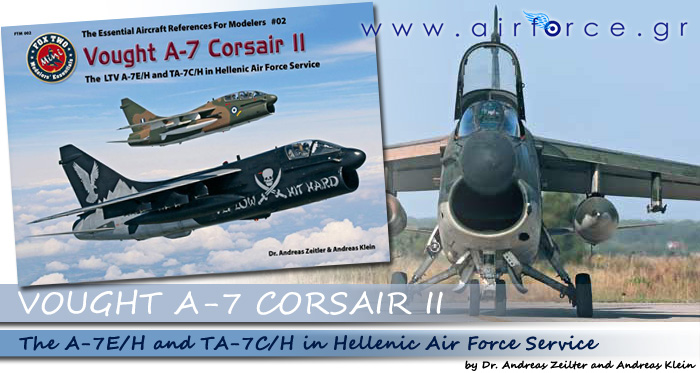 It has been more than one year since the A-7s were retired world-widely and this great book came into our hands. It is an essential walkaround guide of the SLUF prepared for modelers but fits also the needs of any aviation enthousiast who indeed happens to admire this mighty aircraft.
The A-7E/H and TA-7C/H in Hellenic Air Force Service
Written by Dr. Andreas Zeilter and Andreas Klein
Published by AIRDOC
This is an A4 sized landscape, softcovered book. It is bilingual written in both English and German text. In its 72 pages of content you will find over 250 full coloured  photos.
This walkaround details the status of the A-7 Corsair II or lovingly called 'The SLUF' in Hellenic Air Force service. In the book the reader will find a 2000 word introductionary text, describing the development and the final technical changes of the fighter-bomber. This is followed by 20 pages of action photographs divided by units.
Over 40 pages are dedicated to the modeler and contain superb and hitherto unpublished close-up images of the following:
Radar
Cockpits
Landing gear
Engines
Most recent armament
Fuselage details
Camouflage schemes etc.
Purchase the book: here
Here some demo pages in pdf for download: