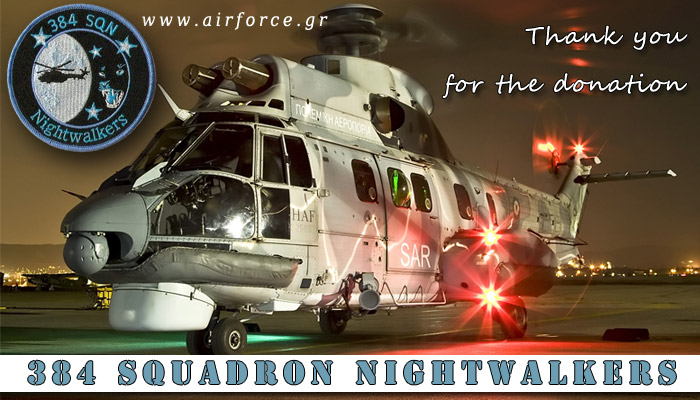 We all are aware of the huge contribution of 384 SAR Squadron to Hellenic Air Force and society in general. A big variety of services like Emergency Medical Service, Delivery of Supplies to Isolated Areas, General Missions for the Common and Social Good and that is only a part of the daily life of 384 Squadron which never gets routine. For more information about the history of the squadron please visit the official Hellenic Air Force web-site here.
Lately the services 384 SAR Squadron provides has got a night character where statistically the 70% of the missions are accomplished during night period of the day. That means that not only pilots but also the technical personnel maintain the Super Puma helicopters during night. For that reason a special patch has been designed and relized recently under the general title Nightwalkers that you can see above but also in our gallery here.
We would like to sincerely thank the Hellenic Air Force 384 Search and Rescue Squadron personnel and especially Cpt. John Stathis for the kind donation of the patch to airforce.gr web-site. We always appreciate, support and recognize that kind of genteel movements!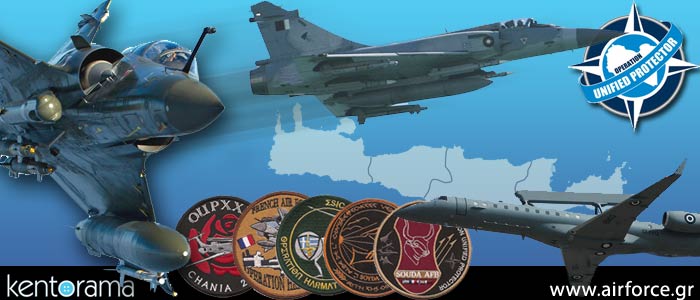 Operation Unified Protector (OUP) is an ongoing NATO operation concerning the 2011 Libyan civil war, implementing an arms embargo, a no-fly zone and using all means necessary, short of foreign occupation, to protect Libyan civilians and civilian populated areas. For that reason the Hellenic Air Force Air Base of Souda hosts plenty of aircrafts and personnel of French, Royal Norwegian and Qatar Emiri Air Force. Several patches have been designed for OUP crews and most of them use the greek alphabet letters as you can see in the Album that has been created in our gallery. The code word Harmattan is used by French Air Force participation in OUP. We especially thank Kentorama for the kind donation and precious help in order to present this set of OUP patches. To access the Album with patches please click on the image above or here.
For more information about Operation Unified Protector please read: here . For more information about Opération Harmattan please read: here . For more information about Souda Air Base please read: here .