airforce.gr Version 3 beta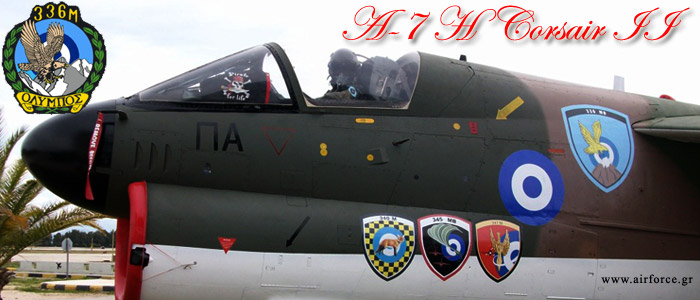 As known 336 Squadron "Olympos" is the last in the world to still fly with A-7E Corsair II.  Nevertheless today 27 February 2010 the 336 Squadron celebrating the 67 years in service of Hellenic Air Force presented a special painted A-7H Corsair II aircraft which is placed in front of the squadron's building in Araxos AB. The type has stopped flying in 2007 and among other 340, 345 and 347 Squadrons made use of it. We especially thank our friend Vaggelis Kontodimos from Patras for the information and the photographs.

"I Fly For Charity" is an initiative of the Alfa-line crewchiefs and the pilots of the 10th Tactical Wing in Kleine Brogel, Belgium.   The pilot-puppets from "I Fly For Charity" fly with different pilots and different kinds of aircraft around the globe before being sold to the highest bidder on the internet together with their official logbooks and pictures of their adventures. The three courageous IFFC-pilots are "Tijgetje" for 31 Sqn, "Miss Tweety" for the OCU Sqn and "Mace" (Homer) for 349 Sqn. All proceeds of this initiative go entirely to the "Children's Cancer Foundation, npi" in Belgium. (Kinderkankerfonds vzw) It is off course always possible to contribute to this project even before the IFFC-pilots are sold.
There are two ways to do so: